Features
You decide the performance.
Available in two different sizes – the 1.4 Liter 37mm or 1.8 Liter 57mm internal CPU height, with 120mm radiator supported in both models.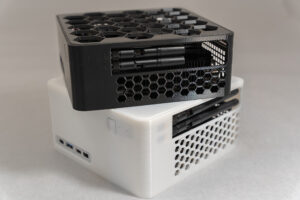 Improved Thermal Performance.
Measured to improve die temperatures by as much as 7C vs. Stock DeskMini case.

Modular lid system.
With 15+ styles of swappable lids to choose from in lasercut Acrylic and 3D, Lander is the most customizable case ever created.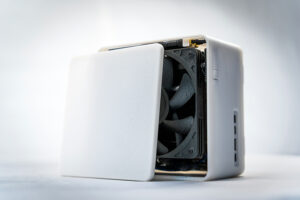 Modular storage system.
Supports up to two 2.5″ drives of 7mm or 15mm height, or simply none at all for a sleeker profile.

Modular frame system.
Anticipated to be ready by Q2 2023, the modular frame system will offer further expansion options to Lander and make use of the Deskmini's rear m.2 slot for PCI card expansions.